Our Family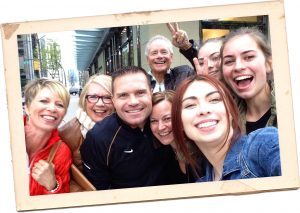 SARA SIMPLY SAMPLING is a family business. As individuals, we share a hands-on approach to everything we do. Above all, we're a team. We've always worked hard, but we've never forgotten to have fun in the process. When we first learned about sampling, it was a service no one in Alberta offered. We really liked the idea of promoting a product in person and in real time. And so we gave it a try, and the rest is SARA.
We've grown to become the leading brand experience company in Western Canada. In the process, we've expanded our family to include head offices in Edmonton and Calgary with over 24 staff and a host of associates across major cities in Western Canada. Working from our warehouses and our customer service groups, we manage over 6,000 product demonstration events monthly.  
We welcome the opportunity to show food and beverage companies real results and we get to work with real people, our in-store demonstrators, who enjoy engaging with customers and bringing their own personalities to answering their questions. People ask where the name SARA come from. The truth is that it's the name our youngest gave to a favourite pet, which SARA still is!